The Right Honourable
Brian Mulroney, P.C., CC, LLD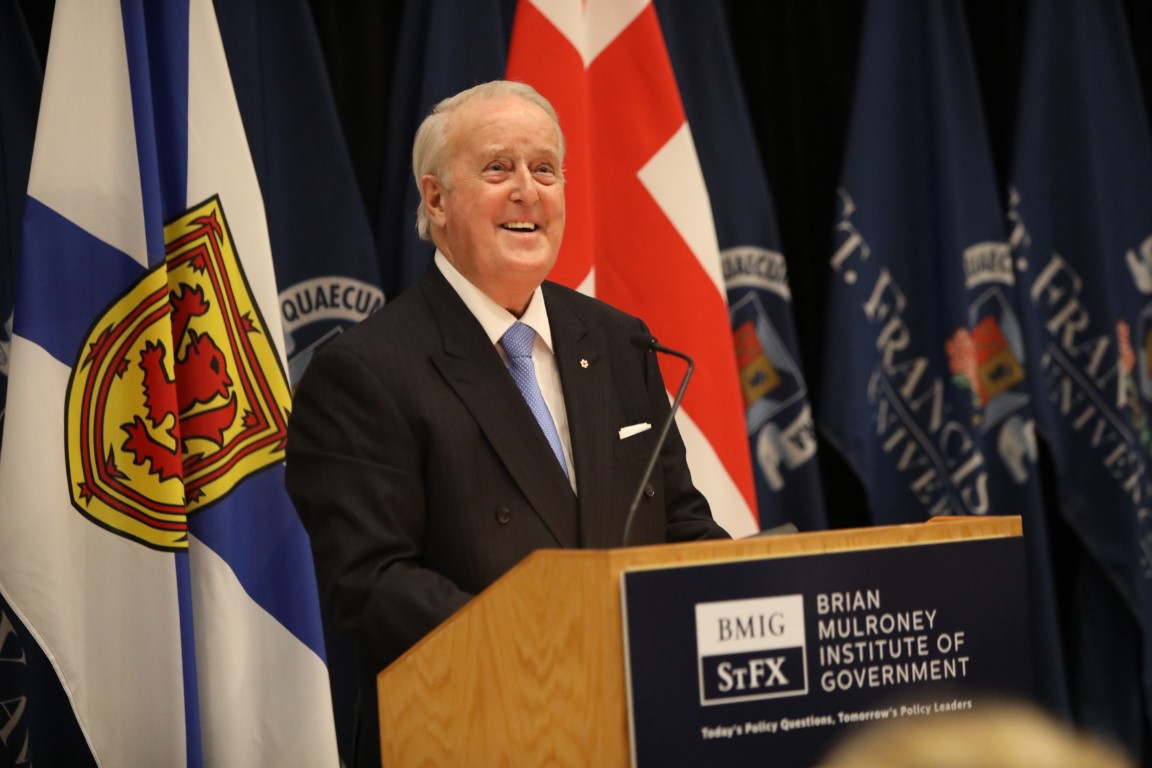 Martin Brian Mulroney was born in Baie-Comeau, Quebec in 1939 to Benedict Mulroney and Irene O'Shea. One of six children, he graduated from St. Thomas College High School (now St. Thomas University) in Chatham, New Brunswick in 1955, and then enrolled at St. Francis Xavier University in Antigonish, Nova Scotia. After receiving his B.A. in 1959, Brian Mulroney obtained a law degree from Université Laval in Quebec City. He practiced law in Montreal and went on to serve as President of the Iron Ore Company of Canada.  With well-honed skills as a labour lawyer and executive, Mr. Mulroney entered the political arena, becoming Party Leader of the Progressive Conservatives in 1983 and Leader of the Official Opposition in the House of Commons.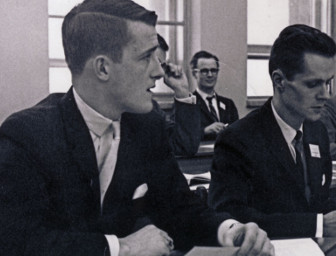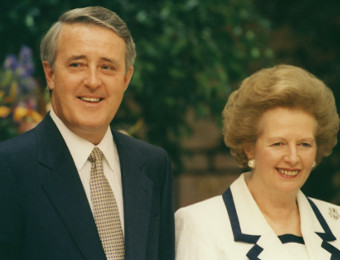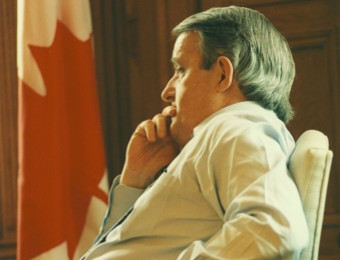 In September 1984, Brian Mulroney led the Progressive Conservative party to the largest electoral victory in our country's history, becoming Canada's eighteenth Prime Minister. He was re-elected with a majority government four years later, becoming the first Canadian Prime Minister in 35 years to win successive majority governments and the first Conservative Prime Minister to do so in 100 years. He resigned in June 1993, having served almost nine years as Prime Minister. His government introduced bold new initiatives such as the Canada-U.S. Free Trade Agreement, the North American Free Trade Agreement (NAFTA), the Canada-U.S. Acid Rain Treaty, and the Canada-U.S. Arctic Cooperation Agreement. Prime Minister Mulroney's government also introduced a wave of privatizations, a low inflation policy, historic tax reform, extensive deregulation, and expenditure reduction policies that continue to underpin Canada's impressive economic performance today. In an important attempt to include Quebec in Canada's amended constitution, Prime Minister Mulroney was the architect of the Meech Lake Accord. Mr. Mulroney also served as Co-Chairman of the United Nations World Summit for Children and his government played leading roles in the campaign against apartheid in South Africa, the creation of Le Sommet de la Francophonie, and the liberation of Kuwait in the First Gulf War.
Since leaving public office, Mr. Mulroney has been a Senior Partner with the Montreal law firm of Norton Rose Fulbright. In addition to chairing and serving on several boards of directors and trustees, Prime Minister Mulroney continues to play a critical role in shaping the conversation around several key policy issues in Canada and abroad. For his many accomplishments as a world leader, he has received several prestigious awards, including: Canada's highest honour, Companion of the Order of Canada, and the highest honor of the Government of Quebec, Grand officier de l'Ordre national du Québec. He has also received the highest recognition from the following governments for his leadership in vital matters affecting their nations: Haiti – Grand-Croix de l'Ordre national Honneur et Mérite (1994); Ukraine - Order of Kniaz (King) Yaroslav the Wise, First Class (2007); Japan - Grand Cordon of the Order of the Rising Sun (2011); South Africa - Supreme Companion of O.R. Tambo (Gold) (2015); France - Commandeur de la Légion d'honneur (2016).
Mr. Mulroney has also been presented with the Global Citizen Award by the United Nations Association in Canada (2001), the Woodrow Wilson Award for Public Service, and the Christian A. Herter Memorial Award for his leadership that contributed to "better international understanding." In 2018, Mr. Mulroney was also honoured with the George Bush Award for Excellence in Public Service and, in 2019, received the James A. Baker III Prize for Excellence in Leadership at Rice University in Houston. Prime Minister Mulroney received the International Environment Bureau's National Environmentalist award for leadership on both global and national environmental policies and issues. Mr. Mulroney was chosen by leading environmentalists as the Greenest prime minister in history. Mulroney was inducted into the Canadian Disabilities Hall of Fame for his extraordinary contribution to enriching the quality of life for Canadians with physical disabilities.
A strong advocate for nurturing future generations of leaders, Prime Minister Mulroney spearheaded the largest fundraising campaign in the history of St. Francis Xavier University to establish the Brian Mulroney Institute of Government and an undergraduate program in Public Policy and Governance. Among his many achievements, this is a legacy of which we are all enormously grateful.